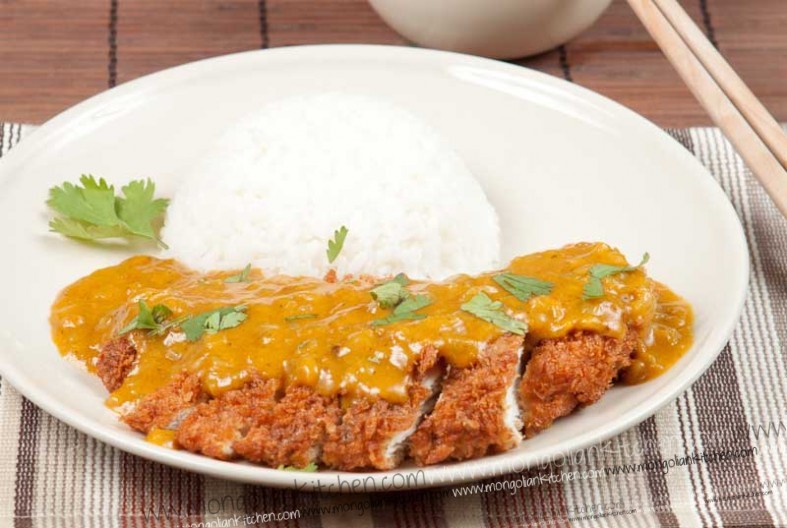 Author:
The Mongolian Kitchen
2 chicken breasts
Vegetable oil for deep frying
1 tsp Chinese 5 spice
½ tsp salt
½ tsp black pepper
½ tsp curry powder
2 tbsp corn flour
2 tbsp plain flour
1 tsp baking powder
2 whole eggs
Panko Breadcrumbs
1 medium onion, finely chopped
½ tsp brown sugar
1 tsp garlic puree
2 tsp butter
1 tbsp flour
1 tsp medium curry powder
½ tsp paprika
½ tsp turmeric
¼ tsp chilli powder
½ tsp tomato puree
½ cup coconut milk
½ cup chicken stock
½ tsp garam masala
Start by preparing the curry sauce which can be cooked in advanced and reheated at the end, or leave it bubbling in the background.
Add the chopped onion to a saucepan with 1 tbsp vegetable oil.
Gently cook the onion on a medium heat for 15 minutes.
Add the sugar and continue to caramelise for another 10 minutes.
Add the garlic and cook for 2 minutes, then remove from the pan and place into a bowl.
Give the saucepan a wipe (or use a new one) – Add the butter and melt
Add the flour and stir through the butter to cook it out for 2 minutes.
Add the curry powder, turmeric, paprika, chilli and tomato puree and cook through the foamy mixture for another 2 minutes.
Add the coconut milk, stock and add the onion/garlic mixture back to the sauce.
Simmer for 10-15 minutes adding more coconut mixture and salt/pepper to taste.
When the sauce is ready add the garam masala and stir through ready to serve.
While the curry sauce is simmering you can prepare the chicken.
Flatten the chicken breasts with a mallet until they are about 1cm thick (or cut in half if they are big)
Mix the spice rub together in a bowl, set half of this aside and season the chicken with the other half, rubbing all over.
Next prepare 3 bowls for the "batter station" – 1 flour mixture, 1 eggs, 1 Panko bread crumbs.
In the flour bowl add the corn flour and plain flour and mix with the remaining half of the spice rub and the baking powder.
In the egg bowl beat the 2 eggs together.
Pre-heat your oil in a large wok or frying pan (you can also shallow fry these).
Then you are ready to fry the chicken. Start by dipping the seasoned chicken in the flour mixture, shake off excess flour.
Then dip into the egg and make sure it is well coated.
Then dip into the Panko breadcrumbs making sure to cover all the breasts with the breadcrumbs.
Finally dip into the hot oil and fry making sure the oil is not too hot so as to avoid browning the chicken without it cooking in the middle.
Drain the chicken onto kitchen paper.
To serve slice the chicken and top with curry sauce, alongside boiled rice.