Tandoori Chicken Masala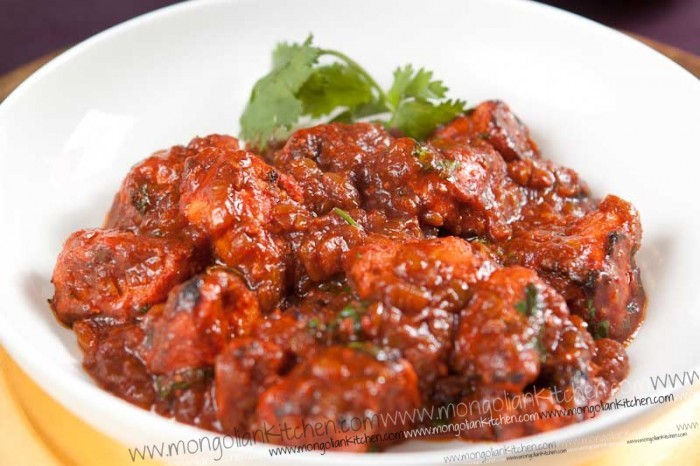 Chicken Breasts (or thighs)
3-4 tbsp Greek style yoghurt
1.5 tbsp Rajah Tandoori spice mix
½ tsp coriander powder
1 tsp Garlic Puree
3 tbsp vegetable oil or ghee
½ Cinnamon Stick
4 cardamon pods
4-5 cloves
Fresh Curry leafs (5+ depending on your taste)
3 large onions, finely chopped
1 tsp garlic puree
1 tsp fresh ginger puree
1 tsp tomato puree
150g Creamed tomatoes (or tinned tomatoes)
100ml chicken stock (or water)
Fresh Coriander
1 tsp mango chutney
½ tsp tamarind paste
1 tbsp brown sugar
1 tsp coriander powder
1 tsp garam masala
1 tsp paprika
½ tsp curry powder
½ tsp red chilli powder (more if you like it hotter)
½ tsp turmeric powder
2 tsp tandoori spice mix
Cut your chicken breasts into equal pieces
Place the marinade ingredients in a bowl and mix well.
Place the chicken in the marinade, cover with cling film and refridgerate for 3 hours (or overnight)
When ready to cook skewer the chicken and grill on a high heat until cooked and golden
Place the oil or ghee in your pan (or wok as we've used) and gently heat on a low heat with the cinnamon, cardamon pods and cloves to gently infuse and flavour the oil.
After 2 minutes remove the cloves, turn up the heat to high and throw in the fresh curry leaves, fry for 20 seconds.
Add the chopped onions and fry on a medium heat for 10-20 minutes until golden (add a ½ tsp of the brown sugar with the onions to help caramelise them).
Add the ginger and garlic puree and fry for a further 2 minutes.
Turn the heat to the lowest, create a well in the onions and add the dry spices and tomato puree.
Slowly increase the heat to medium and fry for around 2 minutes (if its looking dry..add a touch of oil).
Add the tomatoe puree along with the mango chutney, tamarind paste and brown sugar
Fry for around 2 minutes to release the flavours and aromatic oils from the spices (you will see the oils released through the sauce).
Add a little chicken stock to add some liquid into the gravy and turn the heat to a medium low to simmer for a further 10-15 minutes.
If the sauce runs dry add extra stock or water, making sure not to make the sauce too runny.
Check the seasoning and if the consistency of the sauce is right, add the chicken pieces, stir in and allow to simmer for a further 5 minutes.
Season with fresh coriander, stir and serve.